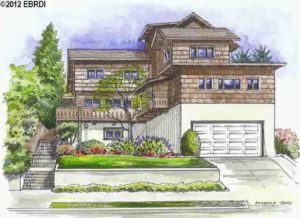 Berkeley, CA – The Pinza Group, Inc, a leading Bay Area Investment Real Estate Sales Brokerage, has announced the sale of a prized rooming house one block to UC Berkeley located on 2335 Warring Street. The sales price was $2,600,000, which represents a $533.33 price per square foot, an incredibly higher price per square foot in the 94704 zip code of Berkeley.
Steven Pinza, Esq (a 2014 Top Sales Broker according to CoStar), President of the Pinza Group, Inc (a 2014 Top Sales Firm according to CoStar), represented the Buyer and Seller on this transaction, which was aggressively marketed on the open market. "There were multiple offers on this building as investors knew of the tremendous amount of upside and equity which could be created by developing the property to its potential" "says Pinza. "This property will be completely transformed in no time, and it will be a tremendous boost for values in that area." adds Pinza.
Designed by famous Berkeley Architect A.W. Smith, 2335 Warring St is comprised of 16 bedrooms and six bathrooms spread across three completely renovated floors. Each floor has extra bonus rooms which can be used as offices, or a social area. This low maintenance building has historically boasted low vacancies in a strong rental location. The building is individually metered for gas and electric and water, which are paid by the landlord and reimbursed by the tenants.
The property is a well maintained building in the Elmwood district, one of Berkeley's most sought after rental neighborhoods. The subject property is located in the heart of the Elmwood Neighborhood at 2335 Warring St, in between Prospect/Channing, which is considered to be one of Berkeley's most sought after rental locations. An ideal location for students wanting to be close to the UC Berkeley campus, retail stores, and restaurants.